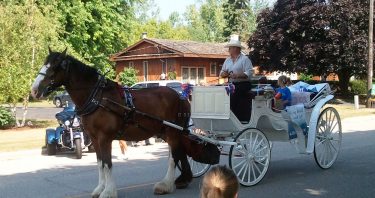 5 Great Door County Events Happening July 2018 You Won't Want to Miss
Belgian Days – July 14th and 15th
This year marks the 57th Annual Belgian Days celebration in Brussels. Just south of Sturgeon Bay. This 2-day event celebrates the Belgian Heritage with food, music, co-ed volleyball tournament, and Big Dogs Baseball tournament. Homemade fresh Belgian Waffles will be available on Saturday morning with Belgian Trippe, Belgian Pies, Booyah, Hamburgers and potato jut. The group Texas 55 will play Saturday, July 14th at 1pm with music by Spice starting at 7pm. A parade will be held on Sunday at 10am followed by Modern Day Drifters starting to play at 11:30am.
Boxcar – July 20th
Northern Sky Theater presents "Boxcar" a musical. This musical is a tender story about an unlikely friendship between a boy and two hobos in the late 1930s. Northern Sky Theater is a fun adventure under the stars and we encourage anyone visiting Door County to see a musical put on by Northern Sky Theater Company. You won't be disappointed.
Dairy Heirs – July 21st
Northern Sky Theater presents "Dairy Heirs" musical. This musical is like a good Wisconsin dairy breakfast: home grown, hearty, plenty sweet, with a side of tongue in cheek. It's a modern-day family farming moo-sical.
Sail Thru The Avenues Sidewalk Sale – July 26th
This fun event takes you through the streets of Sturgeon Bay where you can take advantage of their Annual Sidewalk Sale and score some amazing deals. The event takes place from 9am to 5pm and will take you to shops located throughout Madison Ave, Jefferson St, Egg Harbor Rd, Green Bay Rd, and Third Ave in Sturgeon Bay, Wisconsin. There will be live entertainment and food from local vendors. Admission is free and is fun for the whole family.
Carlsville Day – July 28th
Carlsville is located roughly 7 miles north of Sturgeon Bay and will be hosting a fun day of family events. A parade kicks off the day at 10am with an annual cherry and grape stomp starting at 11am. There will be live music by Modern Day Drifters, a doggie contest, a high-noon wild west reenactment and a cherry pie eating contest. Craft booths, free water slides, free trolley rides, winery tours, tractor rides and dairy tours are available to round out the day.
Like many local communities, our Door County events are far and wide depending on your taste. For a longer list of Door County events while you are visiting us, please visit the Peninsula Pulse Event page. Wondering what else there is to do or what we recommend, ask our guest services area. They would be happy to help. Remember that when you stay with us at The Lodge, you receive free marina access to Madelyn Marina directly across the road from our parking lot. Bring your boat, bring your family, and enjoy your stay with us this July.