The 7th Annual Wounded Hero Event has come to a close. The event took place August 5th-8th and every year it's an honor to serve our Wounded Hero's. Hosting this event at The Lodge and working with Captain's and Crew's to honor our vets is a privilege.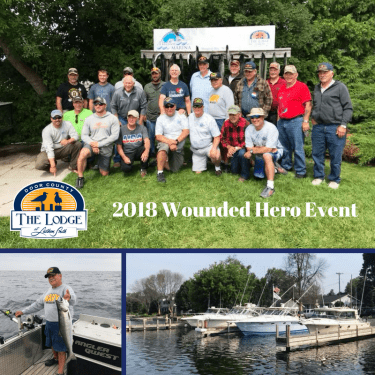 The Lodge would like to thank everyone who has helped make the Wounded Hero Event a success, year after year. The event is made possible from the help of community businesses and individuals who give of their time, talents, and funds.
"These soldiers have given of themselves for our freedom. This event is a small way of showing appreciation for their sacrifices for America" said Meleen. "This is our way of saying thank you, offering them a fun filled 3 days of comradery, fishing, superb food and beverages that won't cost them anything. This can only happen with the wonderful generosity and support we are getting from the many who hear about it and seize the chance to give back through their donations."
If you are an individual or business and would like to help, please call Paul Meleen at 920.743.5555. Donations and sponsoring outings are helpful. The Wounded Hero Event is held each August at The Lodge at Leathem Smith in Door County.
If you are a Wounded Hero and would like to attend this event next year, please contact The Lodge at Leathem Smith at 920.743.5555. Registration is usually open via a registration form starting in April or May of the year.